31.12.2013: Show Rifferswil 16.06.13: Dworjanin Orchideija Moya Otrada CAC and BOB! Sister Otwaga Junior-BOB, the mother Imperia Veteran-BOB! Dober-Kopp Old Shatterhand CAC. Show in Aarau 29.06.13: Dworjanin Orchideija Moya Otrada CAC, her sister Otwaga Junior-BOB, Dober-Kopp Little Foukssia Veteran-BOB and Dober-Kopp Old Shatterhand CAC. Show in Kleindöttingen 06.07.13 under Judge Rosemarie Wild IMPERIA V1 VCAC VBOB BOS and Veteran-Best-In-Show! Great! Thank you! Her brother Mindal also became once Vet.-BIS! Dworjanin Moij Picasso CAC, and BOB goes Dober-Kopp Old Shatterhand "Zoltán"! In Schaffhausen 27.07.13: Angelika Shine on you Crazy Diamond became very promising 1, Puppy-BOB and Puppy Res.BIS. Donaueschingen 04.08.13: Dober-Kopp Old Shatterhand first VDH.
Clubshow Lotzwil 24.08.13: Dober-Kopp Little Foukssia finished VeteranChampion! Dworjanin Otwaga first CAC and Angelika Shine on you Crazy Diamond "Cherry" made Puppy-Res.BIS !
Nat. Coursing Aarau 29.09.13 Dworjanin Otwaga and Dober-Kopp Barbara Streisand "Czárdá" made both well the Coursing-Licence! Dworjanin Mriya second Place.
Intern. Coursing Lostallo 19.10.13 Dober-Kopp Barabara Streisand Place 4 from 9 after Dworjanin Mriya. Intern. Coursing Pichl/Wels/AT Dworjanin Mriya 1.Place CACIL from 7 Females at Start. Show in Karlsruhe/D Dober-Kopp Old Shatterhand "Zoltán", 09.11. IHA Ex.1 VDH, and at 10.11. Nat. Ex.1 VDH RCAC, but he received now the CAC :-)
02.05.2013: Swiss Mastership Coursing in Lotzwil: We had another idea for the results... but Dworjanin Mriya only runs half fast after the other dog was in front of her. She placed the last place. Dober-Kopp Ebony Africa "Panka" just come on the table for the 3th-Place. The new Swiss Master 2013 "Babuschka's Igrooschka" from Urs Alder was running excellent - gratulations for the title!
27.05.2013: We where in Hungary for one week: Dober-Kopp Old Shatterhand "Zoltán" became the very fine place "Excellent 4" at the WORLD DOG SHOW Budapest in Juniorclass !
At the CACIB Grand Prix Show Budapest, Zoltán wins "Excellent 1" with HPJ (Hungarian Prime Junior = JCAC) and JBOB !
At the Sisi Memorial 45years-Jubilee-Clubshow in Gödöllö (castlepark), Dworjanin Orchideija Moya Otrada wins "Excellent 1" HPJ Clubwinner 2013!
At the Eurosighthoundshow in Gödöllö, we didn't became a place. Unfortunately, Otrada was tired and very very reluctantly and did not show her movemend, only trying to get out of the ring = "very good"
04.+05.05.2013: Intern. Show St. Gallen/CH: Dober-Kopp Old Shatterhand wins both days Ex.1 JCAC (and saturday JBOB) and finished his title Swiss-Junior-Champion!
Dworjanin Otwaga made VG1 and Ex.1 JCAC JBOB, also in Juniorclass.
Dworjanin Orchideija Moya Otrada in Intermediate-Class: VG1 ("the coloration is deseptive"), and Ex.1 CAC. Judges where David Smith,AUS and A.B. Santos,PH.
01.04.2013: Dober-Kopp Little Foukssia - 10 years old - at the Show in München/D, in CHAMPION-Class: Ex. 2 RVDH!
24.03.2013: Dworjanin Mriya wins the CACIL at the SeasonOpening-Coursing Lotzwil/CH. And at 27.04.13, she make the second Place with Res.CACIL in Hünstetten/D.
01.03.2013: Conformation Show from the Victoria City Kennel Club in Canada: Dworjanin Melodija win BOB and BOG4! She have now 6 points from 10 for Canadian Championtitle. Congratulations to Rick and Adele, and thank you to show Melodija.
16./17.02.2013: Intern. Show Fribourg/CH: Dober-Kopp Old Shatterhand "Zoltán" win Ex.1 JCAC JBOB. Next day he made Ex.2 Res.JCAC. Dworjanin Orchideija Moya Otrada made Ex.1 JCAC at Saturday. At Sunday, she made VG2 after Dober-Kopp Barbara Streisand "Czárdá" VG1. The judge told, that both are for her too young in mature. Dworjanin Marjushka had her first Show, in OpenClass, made VG2. In Veteranclass, i had Dober-Kopp Little Foukssia at Saturday, she made Ex.1 VCAC VBOB. At Sunday i had my Imperia "Momushka", and she also win Ex.1 VCAC VBOB.
30.10.2012: This year, there is no more Show or Coursing to do. We make Winter-Holiday :-)
20.10.2012: Intern. Show Lausanne/CH: My Izum finished his title "Swiss-Veteran-Champion". And my Dworjanin Otwaga became her first Junior-CAC with 9 Months and 10 days old.
From the Nederland, Elisabeth Smid did come to Lausanne, with Dworjanin Jablochkov, he made Ex.1 CAC RCACIB and Ex.1 CAC the next day. And her selfbreed female Blagorodnja Krasota Igrushka became both days Ex.1 CAC and could finish her title "Swiss Beauty-Champion"!!! Gratulations! Igrushka is a daughter from my Izum.
30.09.2012: Swiss Coursing-Mastership Lotzwil: It was 5 Females and 1 Male at the Start. My Dworjanin Kadushka became 3.Place and Dober-Kopp Ebona Africa (Panka) the 5.Place, but both had the same points. Because i did not train them this time, i am more than happy about the result. A easy and satisfied day.
29.09.2012: Nat. Show Freiburg/D: My Dober-Kopp Little Foukssia receive Ex.1 VDH and is now NEW German-Champion! That makes us very happy. Her Son, Dworjanin I'Tolstoi, became Ex.3 in OpenClass, in front of her Grandson Dworjanin MoijPicasso with Ex.4.
23.09.2012: End of August was the Swiss-Combi-Trophy in Lotzwil/CH. Dworjanin Mriya runs her first Coursing and was of Place 3 from 13! She was not Shown. Panka (Dober-Kopp Ebony Africa) was on Place 5 and Place 4 in the Combination. At Show in Open Class, she became a Excellent 2 RCAC. Dworjanin Kadushka was on Place 7 and also 7 in Combination: At Show she had a "Excellent". Izum became his second Veteran-CAC. Dworjanin Otwaga had a very promising 1 in Youngster-Class, and in Puppy Class was my Czárdá (Dober-Kopp Barbara Streisand) with very promising 1 and her brother Zoltán (D-K Old Shatterhand) with very promising 1, Puppy-BOB and Puppy-Reserve-Best-In-Show.
At the CAC in Kleindöttingen/CH, little Zoltán had vp1 Puppy-BOB and Puppy-Best-In Show! Czárdá again vp1 (from 3), and Dworjanin Otwaga became vp1 Youngster-BOB and Youngster-Best-In-Show! We are a little proud :-) Also Dworjanin Maliyta and her brother MoijPicasso became each Ex.1 CAC. My older Foukssi (Dober-Kopp Little Foukssia) was in WorkingClass and became Ex.1 CAC BOS.
Yesterday at CAC Lostallo/CH, Foukssi became another Ex.1 CAC BOS BOB and now she is Swiss Beauty-Championesse! She is now 9.5years old. I did not show her over 5 years because of the Coursing-accident 2005, with OPs and Therapies..
Unfortunately, Otwaga was limping, she was not judged. Later after the Show, the judge did like to look at her and told me, that she is fine and that without limping, she would became the Youngster-BIS. Dworjanin Mriya was shown for the 4th CAC, but she became only a VeryGood. So, we go on ;-)
14.08.2012: Hochotuschka Raschi-Pack-Buran "Zuggerli", "Caramelbonbon", have her BIRTHDAY, she is now 10 years old. We did make some hours only she and i, walking, shopping in the animal-shop, going to town, in the water in the Park, sitting in the cool grass at shadow, she became a saussice and a back-bone-massage. Hochotuschka is the mother from my J-Litter.
04.08.2012: Donaueschingen-Winner-Show /D: "very promising" for Dworjanin Otwaga, and Youngster-BOB! The ears from Dworjanin Mriya are not correct, and she was out of coat and she became a "good" in OpenClass. I showed my sterilized Dworjanin Moij Million in the Class "out of concurrence", and he became a nice Judge-report and a borzoi-figure, a donation from Lisbeth Mach. (was for the oldest Borzoi, but there was no old Borzoi, so Million became the figure :-) )
15.07.2012: Nat. Summer-Show Rifferswil/CH: "Little Zoltán" Dober-Kopp Old Shatterhand was shown in Puppy-Class and became very promising1, Puppy-BOB(Best Puppy) and Puppy-BIS3. His sister Czárdá became a Promising1, Dworjanin Otwaga in Youngsterclass "very promising 2", Panka had Ex.3 and Kadushka, also in OpenClass, became a Very Good 4.
01.07.2012: Solo-Run in Lotzwil/CH: Dogs without a Running-licence could also start, so we went there and we win in 3 Categories. 280m Senior win Imperia in front of Kuskaya's Daleika. 480m win Dworjanin Kadushka in front of Dworjanin Mriya. 280m win Panka (Dober-Kopp Ebony Africa) in front of Dworjanin Jegoza. It was a very nice day, good athmosphaere. Raining, but the day bevore was it hot 30°.... so it was perfect.
04.06.2012: Versoix: Izum got his first Veteran-CAC. And first show for Dworjanin Otwaga, she got "very promising 1".
09.05.2012: Today, Mindal and MoijOpium would be 11 years old. I miss them!
New Photos from Dworjanin Mihail, Jablochkov and Krechet.
22.04.2012: Goes/NL: Dworjanin Jablochkov win Ex.1 CAC CACIB BOB and BOG4!!
We are very proud and send a big Congratulation to Elisabeth and Marco Smid in Holland!!
19.04.2012: My beloved MINDAL died in the night. He was not well feeling at evening, but some X-Ray-Pictures at the Vet at 22:00 did not show something not normal. At 24:00 i call again, and i give him a Rimadyl. After that, Mindal was lying and breathing very relaxed. I did lie with him, did speak softly to him and take care about him. At 01.40, he startet to have cramp in Abdomen very hard, 3-4 times, and the Breath was going in long intervals and stopped.
I was shocked. Was sitting to him for more 2 hours. He looked like he would only sleeping... I miss him so much.
>Mindal died because of a Anorisma.
10.01.2012: Our O-Litter is here! One black male and one black female, like theyr Daddy. And one male and one female are white with little black pattern. The Pups and the mother are very well. We are enjoying once a small litter!! :-)
06.01.2012: Birthdayparty for Imperia and Izum: They are now 8 years old.
01.01.2012: Photo-Updates: Dworjanin Mazay, Melodija, Mihail.
And Dworjanin Katyenka/Kira. And a nice head-photo from Dworjanin Jablochkov.
Jasnaya and Jascha did found new homes: Jasnaya lives with Jubotshka, and Jascha is a only King now.
26.10.11: I was visiting Dr. Ágnes Koppány from Dober-Kopp Kennel, in Hungary. She is a good friend and i enjoied very much to be there. I had Foukssi with me, she is looking absolutely like Oriana, and Ágnes was very happy to see Oriana's daughter Foukssi. Like Oriana..her big love.
And i could come home with a new Family-Member: Dober-Kopp Ebony Africa. Thank you Ágnes so much for this wunderful and sweet female. She was a piece of my pack in 4 minutes. And i am happy to have one more Dober-Kopp. With the family inside from my first beloved Borzoi, Ibolya!
17.10.11: This WeekEnd we where successfull at International Show in Lausanne/CH. My wunderful Imperia wins the Championclass at Saturday and second place at Sunday. Her future "husband" Dworjanin Jarow became Ex.3 and Ex.1 CAC at second day (his 3th CAC in 4 Shows..!). My beloved Mindal wins both days Ex.1 VCAC VBOB in Veteranclass and is now Swiss-Veteran-Champion. Also Dworjanin Maliyta could make her Junior-Champion now, and became both days Ex.1 JCAC JBOB. Her sister Dworjanin Mriya was shown already in IntermediateClass, and she winns 2x Exc.1 CAC. She now have already 3xCACs at age from 17months :-) Now, she must wait..
And we are very tired but happy!
02.10.11: At Swiss-Coursing-Mastership 2011, Dworjanin Kadushka is on second place, also Imperia second place at Senior-class.
23.09.11: Today, at 10:45, my beloved Vaskes WEGA died. Unbelievable, we are shoked and all very quiet and waiting, that she came through the door..
She was not feeling well and i did made a date with the Veterinarian to make a Cheque-Up. After 2 hours i phoned again, that i like to come earlier, now, because she feels not well, so i could start. Wega stand up and was not shure on her feet. I helped her into the Bus and after 2 Minutes we where at the clinique. She did not stand up and the Vet comes immediately into the Bus, with Stetoskop. He already couldnt hear the heart and after 2 Minutes, Wega did gone away.
Some days later, speaking with the Vet once more: Her left Camber was big and could not anymore pump the blood.
18.09.11: Dworjanin Jegoza got her 3th CACIB at Besancon/F. Congratulation to Angie Bersinger!
The day before, in Kleindöttingen/CH, my Mindal became his second Ex.1 Veteran-CAC, and Dworjanin Mriya win her first "Adult"-CAC.
And in the Nederland, there was the "Nederland Coursing-Mastership 2011", and First and Second Place are Children from my Izum! Congratulations to Blagorodnja Krasota Istotschnik (M.van Seeland) and Blagorodnja Krasota Igrushka (E. Smid).
30.08.11: Dworjanin Mihail did arrive very good in his new Home in the Nederland. At second day, the cats already came to him. I was there myself, good luck Mihail and have fun, dear Claudia &Michel.
At SwissCombiTrophy, we had all different results. "Best Female" was Dworjanin Jegoza, Mindal became a Ex.1 but without VCAC. Mriya was first time in Intermediate Class and became Ex.2 RCAC. Not bad... but there where also VG's and a Good for Dworjanin Jascha (why? it is not clear out of judge-report. He don't have a bigger fault...perhaps because he was a little shy from the strange man (judge)? He is of course not used in showring, i must show the teeth myself). The weather was ok for both days, also not too hot for the Coursing. Thank you Lotzwil !
30.07.11: Nat.Show Schaffhausen/CH: My MINDAL win Veteran-Best-In-Show!
And Dworjanin Jarow became Ex.1 CAC in OpenClass.
Dworjanin Maliyta became Ex.1 JCAC.
24.07.11: IHA Augsburg: Dworjanin Jegoza became Ex.2 RVDH RCACIB.
21.-24.07.11: 4 summer night show in Split/Croatia: Dworjanin Jablochkov became 4x Ex.1 CAC and finished the title Croatian Champion. Also Blagorodnja Krâsotá Igrushka from E.Smid finished with 4x Ex.1 CAC the title Croatian Champion; Her father is my Izum.
03.07.11: Double-CAC-Show, incl. Club-Show:
Dworjanin Mriya could finished her Junior-Champion under Judge Dr. James Sillers/USA. And Vaskes Wega became 2x Ex.1 Veteran-CAC and is CLUBWINNER ! She became a leader-collar!! Both where nominated for "best Head", and Wega also for "best movement".
Dworjanin Jegoza was shown in Championclass, and became Ex.1 CAC in front of the also very beautiful Aza.
01.07.11: New Photos from Dworjanin Jascha and Dworjanin Jasnaya!
25.06.11: Nat. Aarau/CH: Hochotuschka Raschi-Pack-Buran became her 3th VCAC and is now Swiss Veteran-Champion. Dworjanin Maliyta became a Very Good 1.
I could show Dworjanin JAROW, and he became a Excellent 1 CAC ! We are happy.
14.06.11: Yesterday, we meet Dworjanin Jasnij and his Family, and made some photos. Also the Pics from Dworjanin Jubotshka (2011 May) are online now!
12.06.11: Nat. Versoix/CH: Dworjanin Maliyta became her first Junior-CAC, and Hochotuschka Raschi-Pack-Buran became her second Veteran-CAC.
10.06.11: Last Thuesday, Foukssi had a operation! Monday 06.06., i did bring back MoijOpium in the urn, and did go walking with the seniors and going by bycicle with the more younger Borzois. Coming back, Foukssi was on her Sofa and did told me about her pain in the Abdomen-region. I did give her some cookies to look about a stomach-turn-over, but it was good. Going to the Veterinarian, he was looking and did think that there is something wrong with the milt. So, we went to the Clinik. They remove the milt, it was bloody. After waiting to the clinical result from the test....now we happely know: it was only a Hematoma on milt, no cancer! Foukssi is already very well, good female!
01.06.2011: Today morning at 04:20, my beloved big soul MoijOpium did left us.
We are such sad, the cancer was stronger. We miss him and all are very quiet. ... ...
14.05.2011: Dworjanin Jegoza win CACIB, well done!
We are happy with you, dear Angie!
And Dw.Mriya became her second Junior-CAC, and Hochotuschka Raschi-Pack-Buran her first Veteran-CAC. Dw. Kadushka became a VeryGood 1, in front from her Konkurrenz.
Next day was Espen Engh, giving 80% VGs... also Dw.Maliyta became VG1 (no CAC/CACIB given in Females.. :-(
09.05.2011: Mindal and MoijOpium have the 10th Birthday! Mindal is agil like a youngster, but Opium is not so well. Skin-Cancer and it is already in his lungs.
But first, they have a BIG HAPPY BIRTHDAY!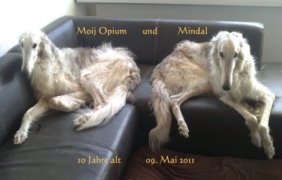 01.05.2011: Dworjanin I'Tolstoi wins Ex.1 VDH CAC. Congratulations! His Son, Dworjanin Moij Picasso became Ex. 4 in Juniorclass. Well done!
19.04.2011: New Photos at Web-Album, find the Link under "Pictures"/"more Pictures".
Dworjanin Melodija did win the Sweepstakes in Canada.
04.04.2011: We received new Photos from Dworjanin Mazay. Thanks a lot.
26.03.2011: Dworjanin Jablochkov is Luxembourg CHAMPION now! Congratulations!
Still looking for a new Home is Dworjanin MIHAIL, 11 months old now.
08.03.2011: End of January, Dworjanin Melodija became her FIRST POINT at Show! She looks such nice, congratulations!
Photoupdates at Dworjanin Kotomka and Dworjanin Meretshka.
16.02.2011: Photoupdates Dworjanin Jablochkov, Dw. Krechet and Dw. Karisma.
10.02.2011: The M&M's are 9 Months old. I have Photoupdates for: Mriya, Maliyta, Marusya, Milok, Mihail, Moij Million, Moij Picasso and also from Melodija in Canada!
Atagora is doing the best. Many thanks to BESSY's KLEINTIERKLINIK, Dr. Jacomet, for the perfect work at her!
28.12.2010: Update Photos: from Dworjanin Ivolgo and Dworjanin Kortik (Photos from last summer ;-)
Atagora is doing very well now. Last sonic-picture control in two days...
23.12.2010: Update Photos: from Dworjanin Jablochkov, Dworjanin Katyenka, Dworjanin Marusya and Dworjanin Milok.
There is still Dworjanin MoijMillion and Mihail for sale.
18.12.2010: ATAGORA is at home again. At July 31. she had a big Operation. She jumped over the Puppyfence and maked a accident. She had turn over one lobe of the lungs. In Octobre, she became a Chylothorax - There is damaged the duct and lymphatic "water" cames out in her Chest. First 3.5 Liters, and always more, so there was a next Operation at November 30. per Thorakoskopie (Operation with Cameras). One week later, she became a inflammable of the lungs and did stay again 5 days in the clinic. We hope now for a silent and healthy new Year. Poor Atagööreli...
August: December: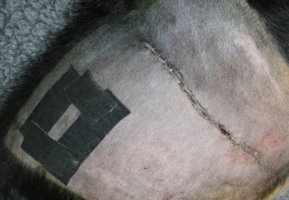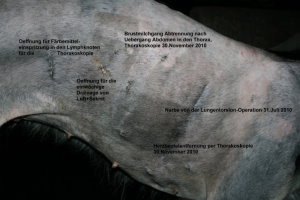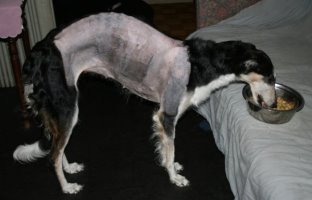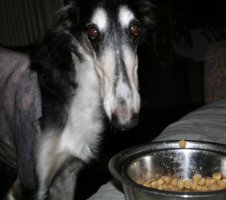 21.11.2010: 3 Males are looking for a new Home, 7 Months old,
from our M-Litter: Moij Million, Milok and Mihail.
Dworjanin Jegoza became her title "Swiss Beauty-Champion" in October.
And she did win the Mastership and became the title
"Swiss Coursing Master 2010".
In Seniorclass, my Imperia did win and became the title
"Swiss Coursing Master 2010 Senior". We are proud ;-)
02.05.2010: our M-Litter is born! Atagora did bring us 5 males and 6 females! They are wunderful and we are very happy.
17.04.2010: Dworjanin Jegoza did made her Breeding-Licence. Look to the Pics from this successful Day. Congratulations to her owner, Angelica Bersinger.
05.04.2010: Easter-Coursing in Rifferswil/CH: Dworjanin Kadushka did made well her Coursing-Licence. And Izum did lost the hare too long = no place. SENIOR: 1.Place Imperia, 2.Place Hochotuschka R-P-B, 3.Place Vaskes Wega.
28.03.2010: We where for the Sonic-Picture with Atagora and we saw minimum 2 Puppies. It was early, only the 26th day, but I couldn't wait.. ;-) Now, we are happy and waiting.. :-)
There was the Spring-Coursing in Lotzwil, with 9 Females at Start. On Place 1-3 are the 3 youngest females, on the place 4 is the OLDEST Female, my IMPERIA :-)) Well done, Moma..! On the 7. Place is Dworjanin Jegoza, was running in her after-heat-time. But with good Points.It was a very interessting Parcour, but the weather was ugly as it can be, with wind and rain and cold. Finally, the second round was canceled. Many Thank's to the workers in Lotzwil for the hard work.
07.03.2010: We are back from Germany: Atagora and Tolstoi married very quickly and happely, so we hope for aristocratic Puppies :-)
Wega was also with us, and the Ultrashall...there was no Puppies found. We are very sad. Wega will be now without Offspring.
16.02.2010: We received new Photos from Dworjanin Jasnij,
Dworjanin Katyenka and Dworjanin Kalina (Litters/ J- and K- Litter)
02.02.2010: Vaskes Wega is mated by Dworjanin Jarow. We hope, this time Puppies will come! And they will arrive at Easter-Sunday! :-))
20.12.2009: K-Litter-Meeting ! Look to the Pictures
21.11.2009: Dworjanin Kadushka did come back. Her Mum must move to SouthAfrica, and after thinking about the situation, we decided that Kadushka better comes back to us.
31.10.2009: Dworjanin JAROW became his Breeding-Licence!
01.11.2009: Dworjanin KASHTAN became his Breeding-Licence!
20.10.2009: WE DID MOVE! LOOK NEW ADRESS!
WE PLAN 2 LITTERS FOR SPRING 2010!
BIG UPDATE:
- new Adress +Phone look "Contact", Main-side
- "Our Home" look "History", Main-side
- L- and M- Litter 2010 look "Litters", Main-side
- "Last Results" look left side on Main-side
- Success Dworjanin I'Tolstoi, Dworjanin Igrock, Dworjanin Jegoza
- New Fotos: Dworjanin Jegoza, Jarow, Jablochkov look "Litters", Main-side
- New Fotos: Dworjanin Karisma, Kotomka, Krechet, Kavaler, Katyenka, Kalina
THANKs FOR YOUR WRITING IN MY GUESTBOOK.. :-)left side at Main-side
18.+19.07.09: Vaskes Wega is mated by Dober-Kopp Pannon Zoltán.
We hope for Puppies in our new Home around 20th September!
(We are moving our home in August...!) WEGA BECAME NOT PREGNANT
18.06.09: Update: Litters / Planed Litter ... Wega and Zoltán ..
18.06.09: Dworjanin Kortik did move to Danemark, 2 weeks ago.
Dworjanin Jubotshka also did move into her new Home in Kiel/D.
Dworjanin Jegoza have now already 3x CAC !!! :-))
We have a new Swiss-Champion: Hochotuschka Raschi-Pack-Buran!
27.04.09: Updates: "Past", K-Litter and I-Litter. What happens else in this long time?
Dworjanin Jegoza did win 2x CAC / 1x CACIB in Fribourg/CH. Dworjanin Jubotshka is looking for a new home and Puppie Dworjanin Kortik is searching his family. All 9 Puppies have complete scissor-bite.
15.09.08: We where at Ultraschall/ECHO: Imperia is pregnant! We are waiting for a lot of Puppies! :-)
31.08.08: Izum did win the Swiss-Combi-Trophy-Combination! At Coursing and Combination, both are at 2th place Atagora z Knyazhego Dvora and
at 3th place Hochotuschka Raschi-Pack-Buran.
18.08.08: Imperia is mated by Avanturin. Now, we hope for wunderful Puppies at middle of October.
The Children from Izum did find all a place.
Dworjanin I'Tolstoi became in Donaueschingen, OC, Ex.2 RVDH ! From 6.
Dworjanin Jablochkov became in Gelsenkirchen, JC, Ex.2 RJVDH ! From 7.
01.07.08: Izum became his 4th CAC, now he can be Swiss-Beauty-Champion !
Hochotuschka became her 3th CAC... And Izum's Children are growing up very well, Istochnik and Iskusjatka are for sale, www.barzois.nl
08.06.08: Izum became Father!! 1 Male and 4 Females are born, and of course, we are very proud :-) Look at www.barzois.nl
Wega became Ex.3 at the Borzoi-Year-Show under judge Dr. Jim Siller/USA.
And Atagora became her first CACIL at her second Coursing.
And: Jarow did find his new home! Imperia did catch her second CACIL and her 5th VDH; Both titles are in homologation! Izum did mate..Atagora have her Coursinglicence and did make 2.place at her first Coursing (behind Imperia).
15.03.08 Imperia did win in Champion-Class and became her 4th VDH.
Dworjanin Jarow is still searching a good Home. He is correct and exc. behavior!
The Breeding-Plan for November 2008 is online.